Asbestos in the home
Asbestos safety for householders and home renovators
Where can asbestos be in the home?
Asbestos was a popular building material in the 20th century. Most buildings constructed – or renovated – before 1990 contain asbestos. 
If your home was built before 1990 it can contain asbestos. Asbestos can be located in any room of the house.
The same general rule applies to farms and rural properties.
Across Australia, asbestos is in 1 in 3 homes.
View or Download this Location Diagram
Asbestos sheeting and asbestos cement might be found in a wide range of products and places including:
cement roofing, gutters and downpipes
fencing
outbuildings like gardens sheds and kennels, the outdoor toilet
cladding for walls and ceilings
backing for tiles and kitchen splashbacks
underneath carpet or vinyl flooring
insulation in roofs and conduits
electrical meter boards.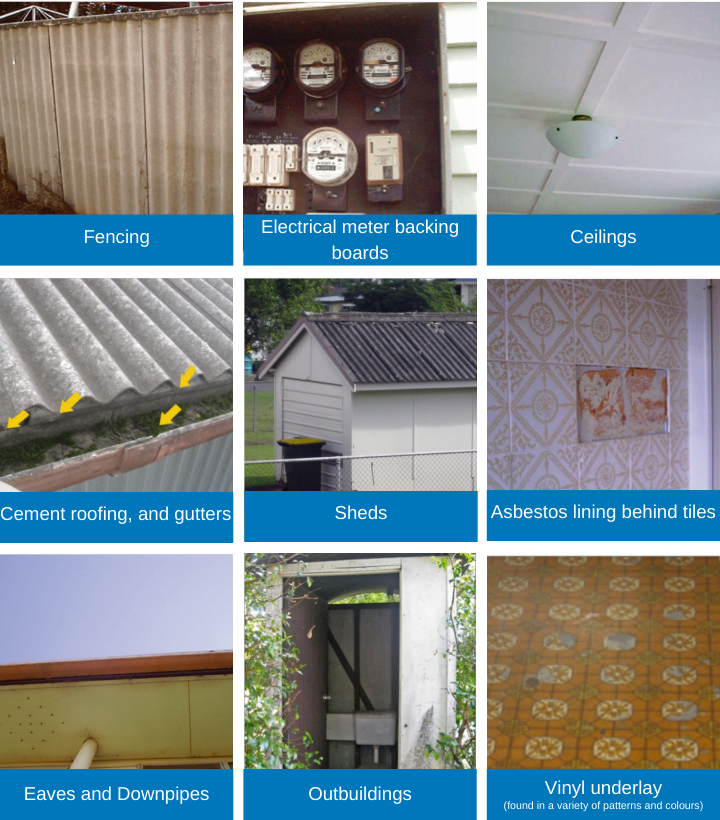 How to find out if your home contains asbestos
You can't tell if a material contains asbestos just by looking at it. Only scientific testing of a sample can confirm this. So if you think a material might contain asbestos play it safe and treat it like it is until you've had it confirmed. Asbestos becomes harmful when it is disturbed, damaged or deteriorating as asbestos fibres can be released.
You can find out for sure if your home contains asbestos and if it needs to be removed by getting an asbestos assessment done by an asbestos professional. See our Arranging a residential asbestos assessment fact sheet which provides useful information about asbestos assessments. If you don't own your home you should contact the owner or property manager as a first step.
For more details on engaging an asbestos professional contact the work health and safety regulator in your state or territory. 
A major benefit of using an asbestos professional who is qualified in the safe removal and disposal of asbestos is that in the event of an incident you should be covered by the professionals insurance. If you do it yourself, it's unlikely that your home insurance would cover the associated removal or clean-up costs that would be necessary to prevent further harm to human health.
You can also check for the possibility of your property containing asbestos by using the ACM Check app (find in App Store or Google Play).
The Victorian government also has this find and identify asbestos tool.
Asbestos safety for householders and home renovators
What rules apply to asbestos in the home?
Dealing with asbestos is the responsibility of the homeowner.
Home improvements can disturb asbestos-containing materials and cause health and safety concerns. 
We all have a duty not to harm those around us. This duty applies everywhere and to everyone.
Asbestos presents a very real health risk if:
you renovate without first finding out if your home contains asbestos 
if you don't use asbestos professionals to make it safe or remove it
if you work with asbestos material without undergoing specialist training
if you work with asbestos material without the proper personal protective equipment and don't follow safe practice.
There are some simple steps you can take to reduce the risk:
know where asbestos could be in your home. If in doubt, get the product tested, or assume it is asbestos
plan ahead to prevent disturbing and releasing asbestos fibres, especially when renovating
safely remove it if damaged or in poor condition
engage a licensed asbestos removalist when undertaking major home renovations or demolitions where asbestos might be present.
A home or residence can become a workplace when a tradesperson performs work at the property. This could be for any jobs from painting and electrical work, to full home renovations. This means that work health and safety (WHS) laws apply to the work being carried out. This is the case even if you don't own the property. The legal duties are placed on the contractor not the home occupier.
Asbestos safety concerns can usually be addressed by contacting your: 
local council if the work is being conducted by a neighbour (a home owner or tenant)
state or territory work health and safety regulator (e.g. WorkSafe or SafeWork) if work is being carried out by a contractor or tradesperson or you suspect improper removal by professional asbestos removalists
local council or state or territory environmental regulator (e.g. EPA) if the concern relates to public areas or illegally dumped asbestos in parks or bushland.
You will find a list of all these contacts for each state and territory on our asbestos safety concerns page.
Asbestos assessors and removal
You will find details on asbestos assessors and removalists by contacting the relevant authority in your state or territory on our asbestos safety concerns page.
Download the Arranging a residential asbestos assessment fact sheet
Asbestos safety for householders and home renovators
Asbestos and insurance
Disaster events such as house fire, bushfire, floods, storms and cyclones occur regularly in Australia.
Cleaning up after a disaster event is significantly more dangerous and more expensive for properties where asbestos is present, and you may find that your insurance doesn't provide the cover you need.
You can lower your risk of accidental damage and uninsured costs if you check and plan for the presence of asbestos before disaster strikes and, if possible, have it safely removed. 
Find out more on our asbestos and insurance page.