Watch our video
Aim of the National Strategic Plan
The National Strategic Plan for Asbestos Awareness and Management (NSP) aims to eliminate asbestos-related diseases in Australia by preventing exposure to asbestos fibres.
To do this, we need to effectively deal with the harmful legacy of asbestos in our homes, workplaces and the environment. The NSP ensures there is a nationally consistent and coordinated approach to asbestos awareness, management and removal. It outlines a phased approach to eliminating asbestos-related diseases in Australia.
Phase one of the NSP went from 2014–2018, and we are now in phase two, 2019 - 2023.
NSP 2019–2023 builds on the previous plan's progress. It complements and enhances existing asbestos policies, plans and actions at all levels of government. It recognises that governments and regulatory agencies, along with businesses, unions, individual organisations, advocacy groups, researchers and members of the community, all need to work together to support coordinated and more effective asbestos management.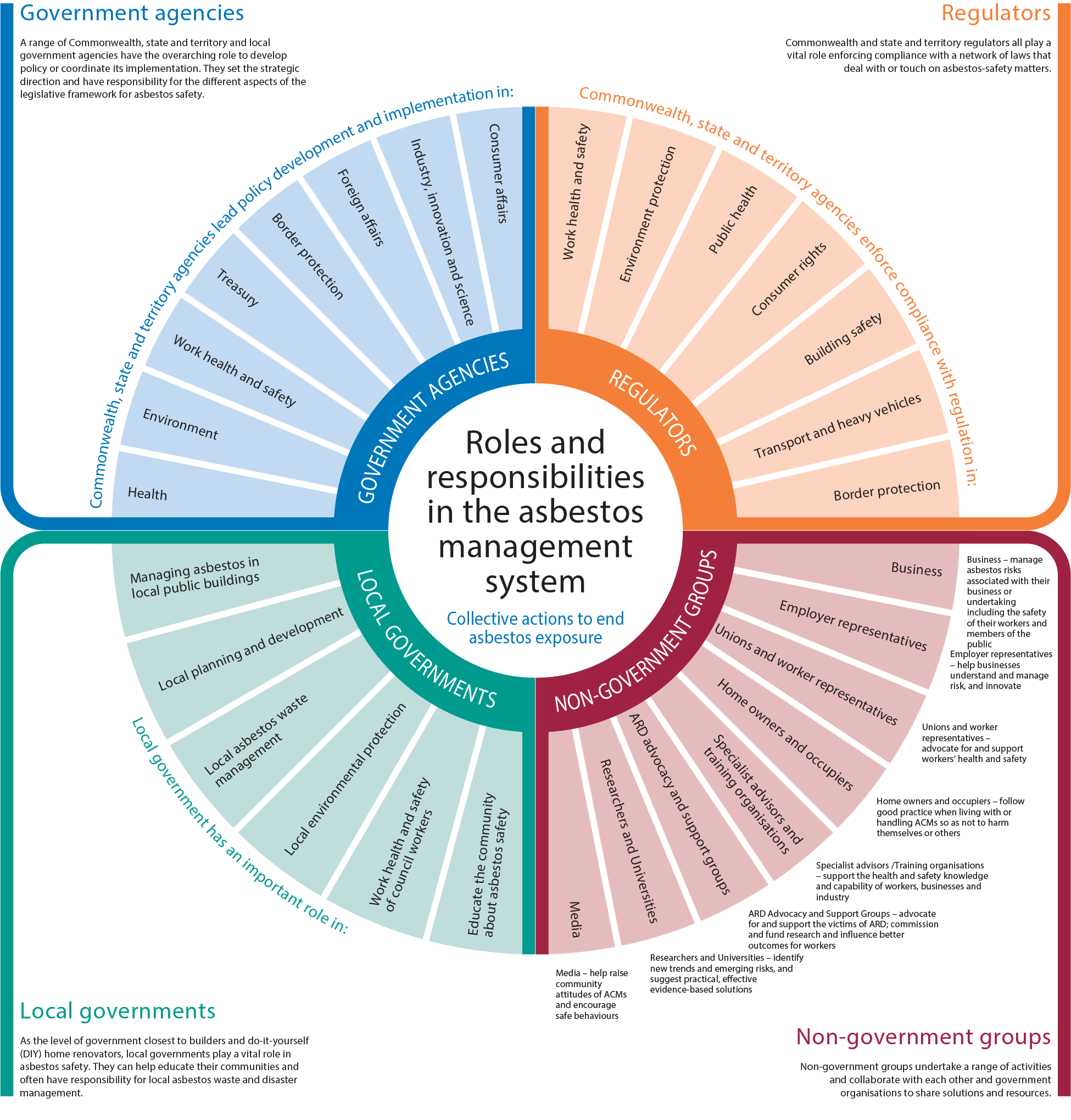 Government and regulatory agencies, as signatories to the NSP, are responsible for taking action to improve asbestos management. They will implement the NSP, and Asbestos Safety and Eradication Agency (ASEA) will support them by encouraging, coordinating, and monitoring their efforts, as well as reporting on their successes and challenges. ASEA will also liaise with all levels of government for a midpoint review of the NSP.
How the National Strategic Plan works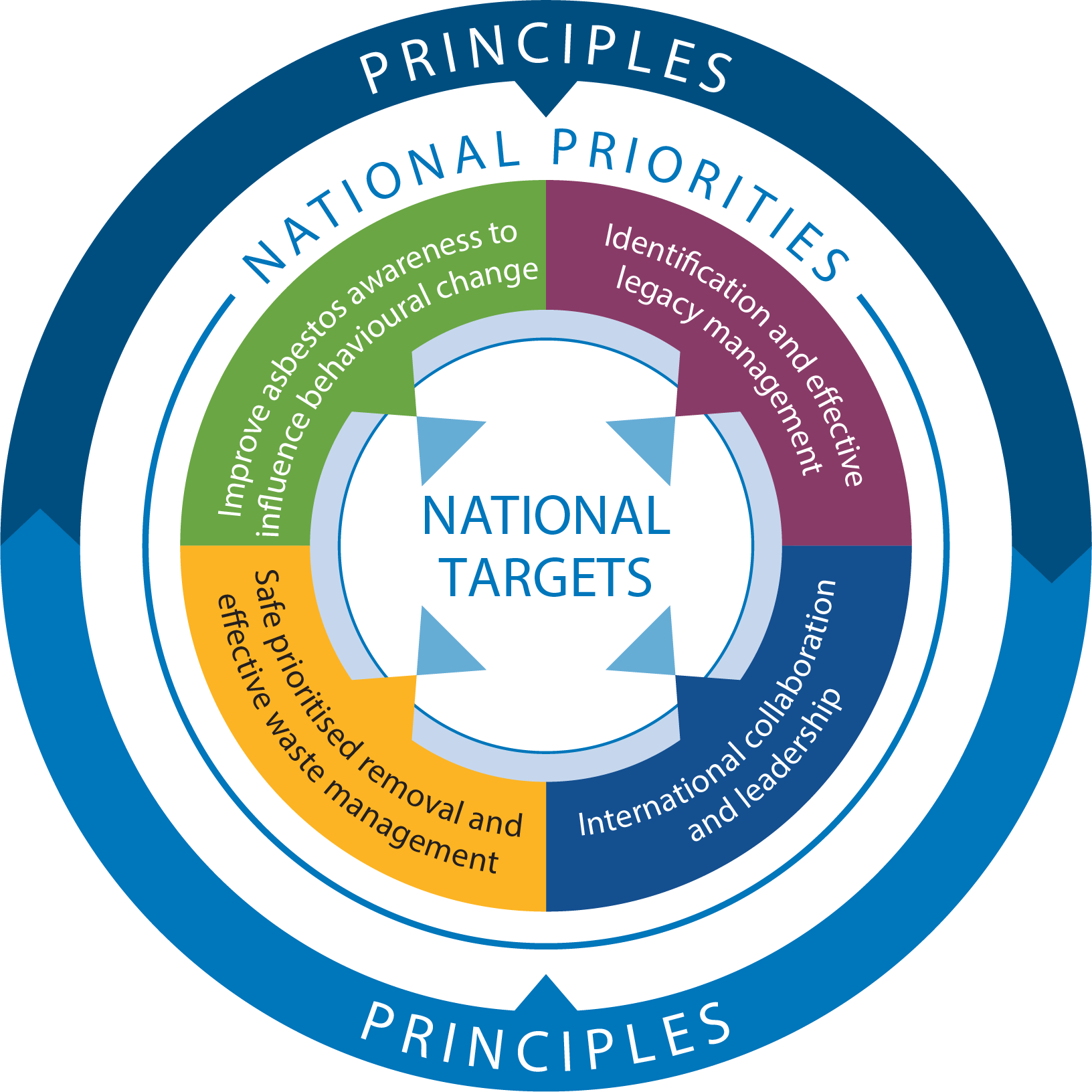 NSP 2019–2023 has four national priorities to focus strategic actions, which together aim to improve asbestos awareness and management. It also has nine national stretch targets that help us remain focused and measure our progress over the life of the plan.
The NSP 2019–2023 priorities are (1) asbestos awareness, (2) identification, (3) removal and (4) international collaboration. The NSP 2019–2023 targets reflect how effective our combined strategic actions under each of the four national priorities are. Targets will be measured using a variety of tools, including surveys and data sets, and relate to requirements within existing regulatory frameworks and government policy.
Putting the National Strategic Plan in action
NSP 2014–2018
During the life of NSP 2014–2018 we coordinated and reported on its implementation. Annual progress reports were published which detailed the activities undertaken by state, territory and Australian Government agencies.
A total of 126 activities were reported as completed and over 60 activities continued into the next phase of the plan, demonstrating active engagement in the awareness and management of asbestos. While progress was made, the extent of Australia's harmful asbestos legacy means that more work is required to secure effective legacy management in order to achieve our aim.
NSP 2019–2023
NSP 2019–2023 states that signatories will align their jurisdictional and local action plans as much as possible with the strategic actions under the four national priorities. ASEA recognises that there will be variation in the priorities and resources of each jurisdiction, and has developed an implementation pack to support jurisdictions formulate their own implementation plans.
ASEA will summarise jurisdictional progress annually, as well as provide an annual national update. The first update will occur at the end of 2020.