The format of the summit presented differently to previous conferences with a major focus on debate for Australia's next national strategic plan, inviting delegates to be involved in important discussions on the agency's next steps to eradicate asbestos nationwide.
The summit welcomed 250 delegates, and brought together well renowned local and international experts in asbestos management, health, advocacy and governance to look at what is best practice in managing the dangers of asbestos in our community and abroad.
Delegates received the most up to date knowledge on asbestos management and awareness from local and international expert speakers through a mixture of interactive plenary sessions, workshops and social events. The summit also saw the launch of a range of new projects including the new agency website and asbestos awareness campaign, both to be released in 2018.
Post-event survey results
70.74% of respondents indicated that their overall impression of the summit was either extremely informative or very informative.
Delegate quote - "The Netherlands presentations was very inspiring and shows a very practical approach to the removal issue."
80.49% of respondents either strongly agreed or agreed that the summit provided adequate opportunity to participate in debate and discussion.
Delegate quote - "Great forum and people who genuinely care about the future. I will definitely attend future forums or seminars"
Quick Facts
 8 plenary sessions, 28 local speakers, 3 international speakers, 6 workshops, 9 event sponsors, 250 local and international delegates.
Save the date for the 2018 conference Date: 18 to 21 November 2017
Venue: Sheraton on the Park, Sydney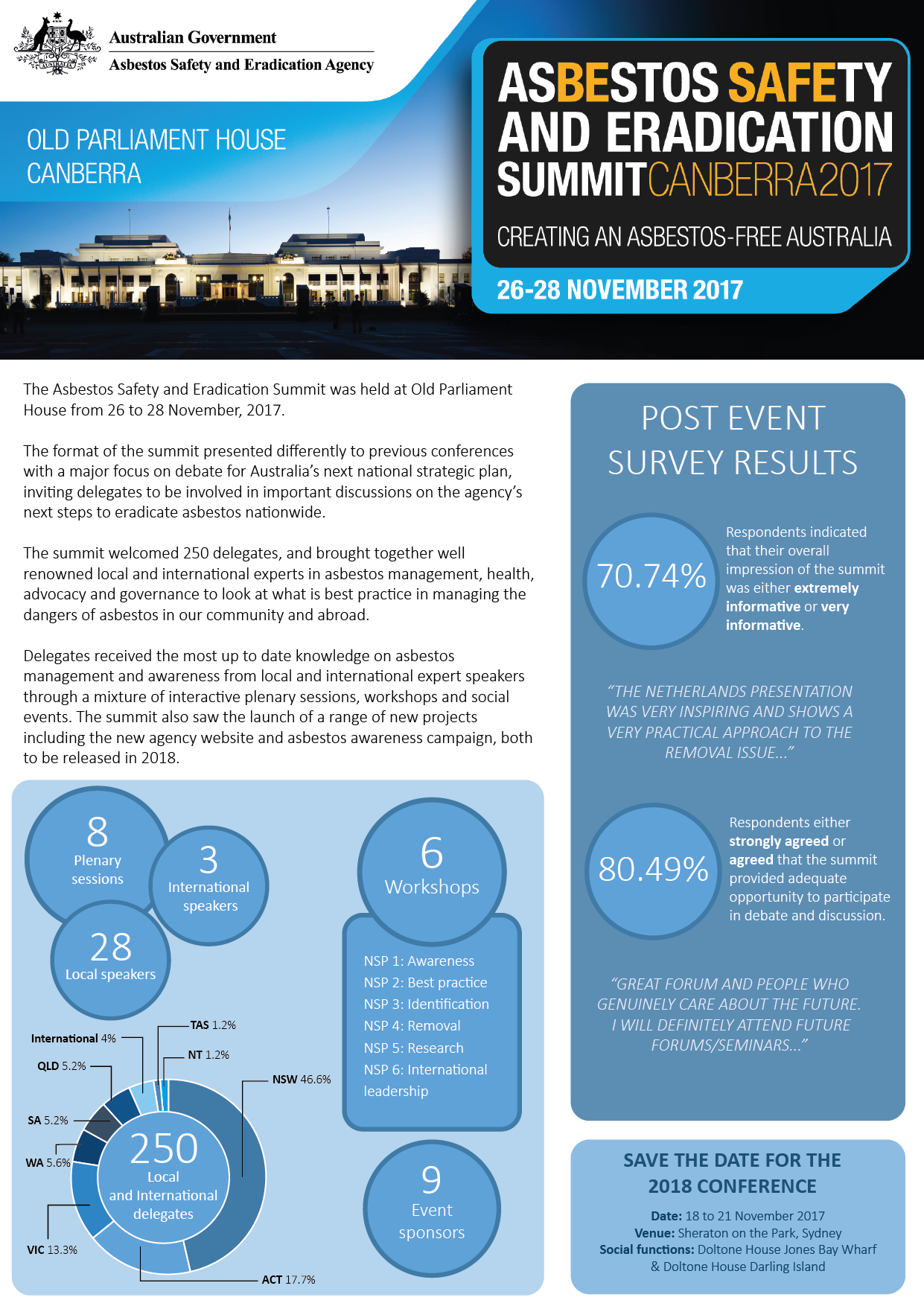 Photos of summit and social events
If you would like any further information or a copy of the presentations from the 2017 Asbestos Safety and Eradication Summit, please contact events@asbestossafety.gov.au.