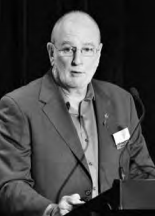 Mr Peter Tighe is the chief executive officer of the Australian Government Asbestos Safety and Eradication Agency – a position he has held since August 2013.
Mr Tighe has had extensive history working in the area of asbestos management. Prior to joining the agency, he was National Secretary of the Communications, Electrical, Plumbing Union, a position he held from 1995 to 2013. Peter was also on the board of the National Occupational Health and Safety Commission.
Mr Tighe's term as CEO expires in August 2018.