The Australian Competition and Consumer Commission (ACCC) has issued a nationwide recall of Polaris youth quad bikes and spare parts after an investigation revealed asbestos-laden parts in at least 12 models.
Purpose
This safety alert provides information regarding possible asbestos in components of some Polaris brand youth quad bikes.
Background
On 19 June 2017 Polaris Sales Australia Pty Ltd initiated a voluntary recall of 12 models of youth quad bikes manufactured between 2000 and 2017 as parts used in the vehicle may contain asbestos (front brake shoes/pads, rear brake shoes, heat shield washers and various gaskets).  The recall may be viewed on the ACCC Product Safety website
The models being recalled are:
Scrambler 50, Scrambler 90, Predator 90, Outlaw 90, Outlaw 110, Sportsman 90, Sportsman 110, Phoenix 200 - front and rear brakes
Predator 50, Outlaw 50 - front & rear brakes and heat shield washer
Outlaw 50 - Spark arrestor gasket
Sawtooth 200 - rear brakes only
Ace 150 - gaskets only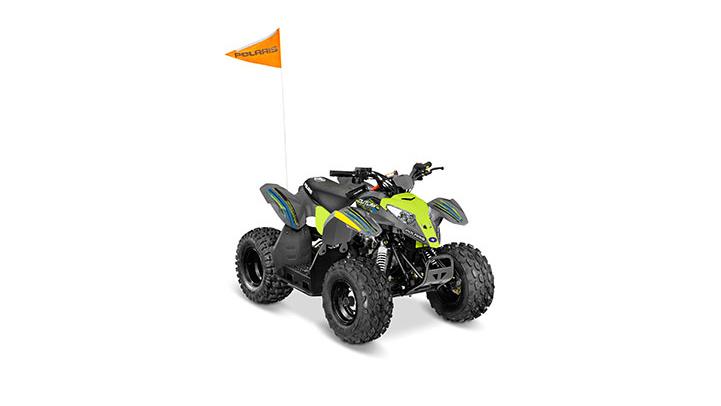 While asbestos has been a prohibited product in Australia since December 2003, in many countries it is still used in manufactured products. Certification provided to importers from overseas manufacturers that goods are asbestos-free have sometimes found to be wrong for the purposes of our regulations.
The use of all forms of asbestos has been banned in Australia since the end of 2003. This means that the import, manufacture, supply, sale and use or reuse of asbestos and asbestos-containing products is no longer permitted, except under very limited circumstances.
Local standards in some supplier countries may classify goods 'asbestos free' where they meet a certain low level of asbestos content. In Australia, a product found with any level of asbestos is prohibited for import or use.
Risk control
Available information indicates that these quad bikes do not pose a measurable health risk through normal use.
Consumers should not perform any maintenance, repairs or modifications on these quad bikes that may contact or disturb the bike parts that may contain asbestos.
Owners will be contacted about this recall by a letter from Polaris to their Polaris-registered address.
Owners of vehicles other than the Ace 150 are advised to contact their nearest authorised Polaris dealer to make an appointment to have any parts that potentially contain asbestos replaced with parts that do not contain asbestos, free of charge.
Ace 150 vehicles will be repaired free of charge when normal in-service replacement of gaskets is required.
If the asbestos materials are to be removed, it is important that the asbestos materials are removed by a person who is competent to do so safely.  Appendix E of Safe Work Australia's code of practice on how to manage and control asbestos in the workplace  provides an example of a "working with asbestos friction materials" safe work method that can be used, including appropriate personal protective equipment, decontamination and disposal of the asbestos waste.
Action Required
The importer must ensure they do not import asbestos into Australia.
Importers should be aware of the varying definitions and standards applied in the country of origin and/or supply. Australian regulations apply at the border.
Where your vehicle is considered a risk of containing asbestos, the Australian Border Force will require assurances that the vehicle, and its component parts, does not contain asbestos. If adequate assurance is not provided, you will face delays and be responsible for costs incurred when the vehicle is held at the border for the purposes of sampling and testing. Importers should be familiar with the information on the Department of Home Affairs asbestos webpage.