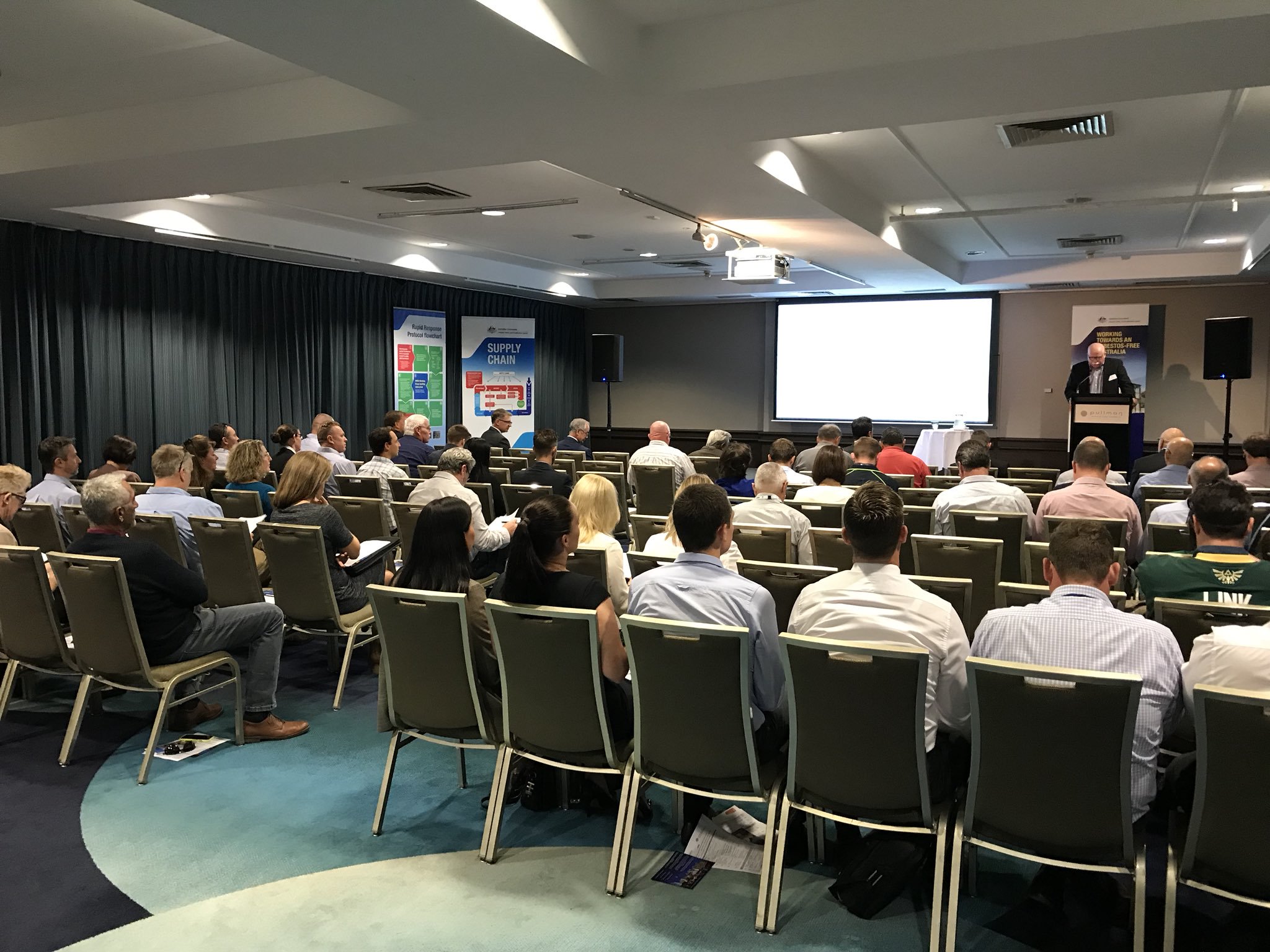 On Monday 30 April, 2018 the Asbestos Safety and Eradication Agency (ASEA) and the Queensland Building and Construction Commission (QBCC) held a seminar at the Pullman Hotel in Brisbane that focussed on raising awareness about the risk of imported products containing asbestos.
The seminar welcomed over 70 industry professionals from a variety of organisations to address how the importation of asbestos is regulated at the Australian border, the responsibilities of businesses in relation to importing goods, and how goods can be verified to ensure that they do not contain asbestos. Following the presentations, delegates had the opportunity to engage in a lunch and networking session with speakers and other industry professionals in attendance. 
Speakers at the seminar included:
The Hon. Mick De Brenni - Queensland Minister for Housing and Public Works; Minister for Digital Technology; Minister for Sport
Richard L. Williams - QBCC Board Chair
Paul Goldsbrough - Executive Director, Safety, Policy and Workers Compensation Services – Office of Industrial Relations, Chair of Asbestos Interagency Group
Topic: Queensland Government's commitment to asbestos awareness and management and an update on the Asbestos Interagency Group activities.
Brett Bassett - Commissioner, QBCC
Topic: Role of the QBCC and the QBCC's responsibility in relation to non-conforming building products.
Peter McGarry - Chief Advisor, Asbestos and Occupational Hygiene and Manager, Asbestos Unit - Workplace Health and Safety Queensland
Topic: Update on Queensland's asbestos compliance activities, and The Heads of Workplace Safety Authorities (HWSA) Imported Materials with Asbestos Working Group and Rapid Response Protocol.
Peter Tighe – CEO, Asbestos Safety and Eradication Agency
Topic: Procurement practices for project designers, builders and principals, the Senate Inquiry into non-conforming building products (NCBPs), and permission to import samples for the purpose of analysis.
Stephen Hledik - Acting Commander, Customs Compliance Branch Australian Border Force, Department of Home Affairs
Topic: Due diligence, responsibility of importers and exporters, regulators' expectation, and recent incidents involving the importation of motor vehicles, building equipment or materials found to contain asbestos.
Michael Shepherd - President, Queensland Asbestos Industry Association
Topic: Update on testing standards and testing to Australian standards at place of manufacture.
Trevor Torrens - Asbestos Disease Support Society
Topic: Impact of asbestos in the community and the need for prevention.
Event resources
If you would like any further information or a copy of the presentations from the seminar, please contact events@asbestossafety.gov.au.