Australia's third International Conference on Asbestos Awareness and Management was held at the Adelaide Convention Centre from 13 - 15 November 2016. The 2016 conference highlighted important research undertaken by the agency in how to manage the legacy issues relating to decades of production and use of asbestos in Australia and also where awareness levels and attitudes to asbestos are at in 2016 following the national asbestos awareness survey earlier that year. The event brought together renowned local and international experts in asbestos management, health, advocacy and governance to look at what is best practice in managing the dangers of asbestos in our community and abroad.
Post-event survey results
88.18% of respondents strongly or somewhat agreed that given their knowledge of asbestos before attending the conference, they learnt new information during the conference.
Delegate quote - With the mix of plenary and breakout sessions, I felt like I learnt a lot both days without ever experiencing conference overload. The social events were great and it was a really good opportunity to meet new people."
81.08% of Respondents strongly or somewhat agreed that they would attend this conference again in the future.
Delegate quote - "The organisation and venue were fantastic. The networking opportunities were also great. It was seriously the best conference I have ever attended."
Quick facts
Exhibitors by industry: 5% superfund, 24% surveying software, 24% asbestos assessment and removal, 10% government, 10% support services, 5% asbestos testing, 5% construction, 10% removal equipment and PPE. 330 delegates, 46 speakers, 7 sponsors, best charity or cause-related event at the 2016 Australian Event Awards.
Save the date for the 2017 summit
Date: 26 - 28 November 2017 Venue: old parliament house, Canberra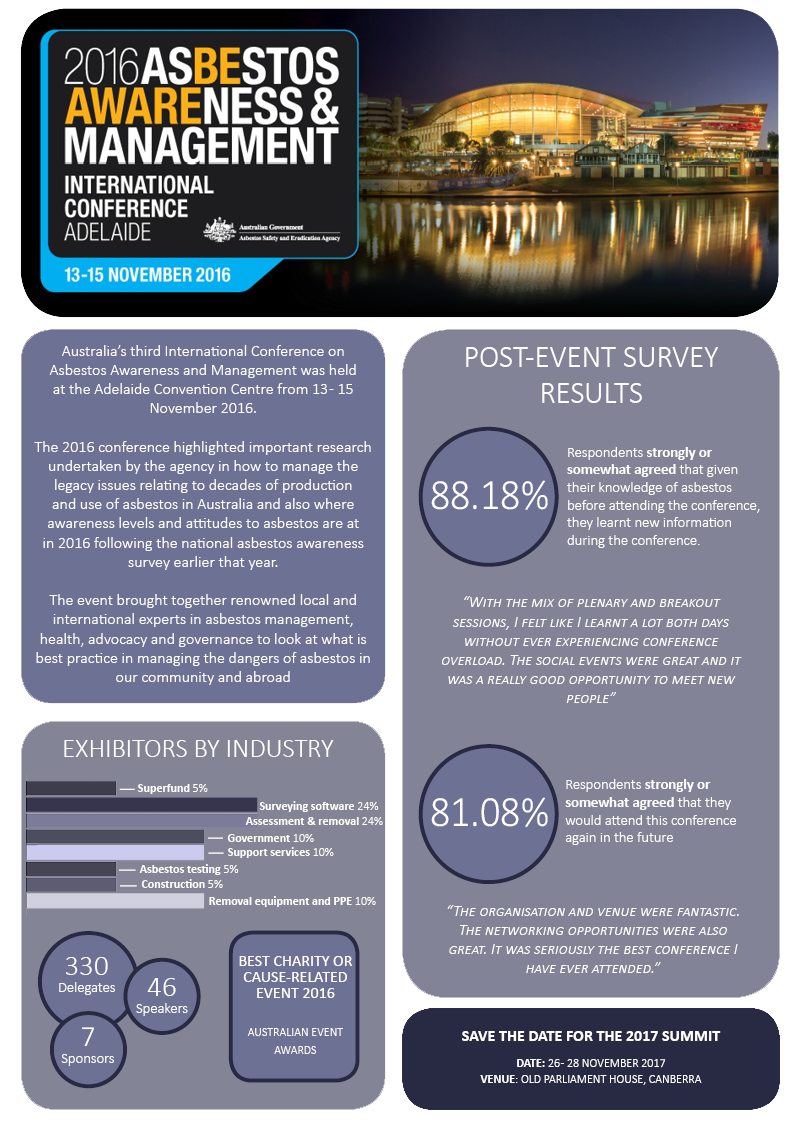 2016 conference handbook (3.99MB)
Highlights video of conference
Photos of conference and social events
If you would like any further information or a copy of the presentations from the 2016 International Conference on Asbestos Awareness and Management, please contact events@asbestossafety.gov.au