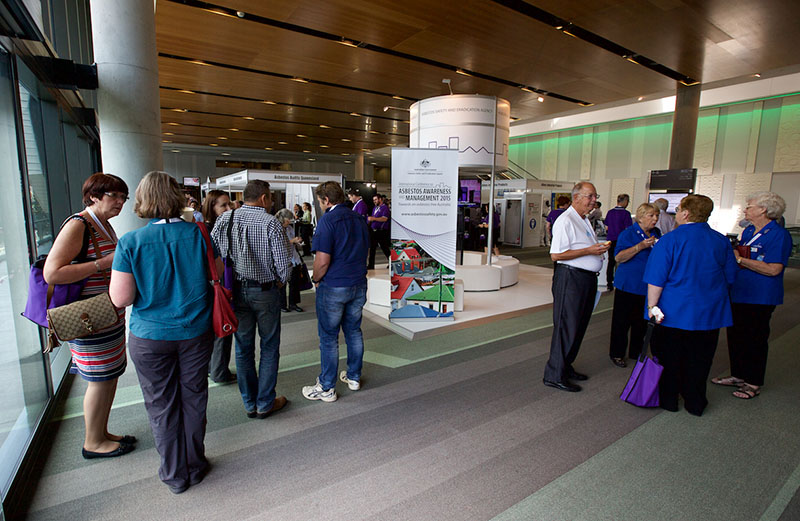 The second International Conference on Asbestos Awareness and Management was held at the Brisbane Convention and Exhibition Centre from 22 to 24 November, 2015.
This conference played a very important role for the agency in delivering the goals and outcomes of the National Strategic Plan for Asbestos Management and Awareness and highlighting the risks posed by asbestos in the community and the impact asbestos-related diseases have on public and worker health. The theme was around best-practice and international leadership in managing the risks of and preventing exposure to deadly asbestos.
Throughout the conference delegates were provided with important networking opportunities during the welcome reception, industry breakfast and gala dinner; as well as a stimulating, thought provoking environment to discuss the big issues facing workplaces, stakeholders and the general community in raising awareness about the dangers of asbestos, and how it can be managed into the future.
Renowned local and international experts in asbestos management, health, advocacy and governance explored the issue of what is best practice in managing the dangers of asbestos in our community and abroad. A key feature of the conference was the focus on how Australia can play an influential role in reducing the reliance on asbestos in South East Asia, with a spotlight on Vietnam.
Various sessions also covered what is best-practice in asbestos management, hearing from those companies that have tailored their business and safety practices specifically to dealing with the potential of asbestos exposure and the protection of their employees.
Additional key topics that were examined at the conference included:
Global burden of asbestos and impact on developing countries, particularly in South East Asia

Threat of asbestos imports

Case studies highlighting best practice in asbestos management and eradication held up as examples for other organisations to follow

Emerging trends and projections in non-occupational or third wave exposure to asbestos in the community, particularly as a result of DIY home renovations

The legacy issues surrounding asbestos materials in Aboriginal communities

Current research and challenges for the agency
The event again highlighted the important role that the agency plays in advocating for change on the ground, in Australia and internationally.
2015 conference handbook (3.19MB)
Highlights video of conference
Photos of the conference and social events
If you would like any further information or a copy of the presentations from the 2015 International Conference on Asbestos Awareness and Management, please contact events@asbestossafety.gov.au.